ABOUT US
Owners Adam Tye and Alana Boscan founded Diabolical Records July 3, 2013 at Granary Row in a shipping container. About 6 months later, they moved to their current brick and mortar location.
Their mission is to introduce Salt Lake City to various independent music labels such as Rocket Recordings, Dark Entries, Lumpy, Iron Lung, Castle Face and many more, on vinyl and tape. They also carry limited released local music on various formats.
Come in to get recommendations on some of the most interesting music out there and experience their award winning free in-store performances by local, national and international bands of all genres several times a month. 100% of donations collected goes to the bands on tour. Limited edition vinyl records and tapes can be purchased from the touring acts which are also carried in-store.
This is how music was meant to be discovered and enjoyed.
SPECIAL EVENTS
Join the Semi Annual event, BANDEMONIUM, July and December. Randomly be placed in a band and create a 5-10 minute set in two weeks to be performed at the store. Musical experience is not required.
Every October is FILMDEMONIUM. Same concept, but with film instead.
BUY SELL TRADE
Please sell or trade your used vinyl! Local music is carried on consignment.
*To properly price your records, please bring them into the store or make an appointment for pick up. Records cannot be priced over the phone.
*If you are a local musician, bring 5 items to the store and fill out a consignment form.
AUDIO VISUAL RENTALS
Contact Utah Projectors to rent projectors and sound equipment at utahprojectors.com. Pick up and return equipment easily at Diabolical Records.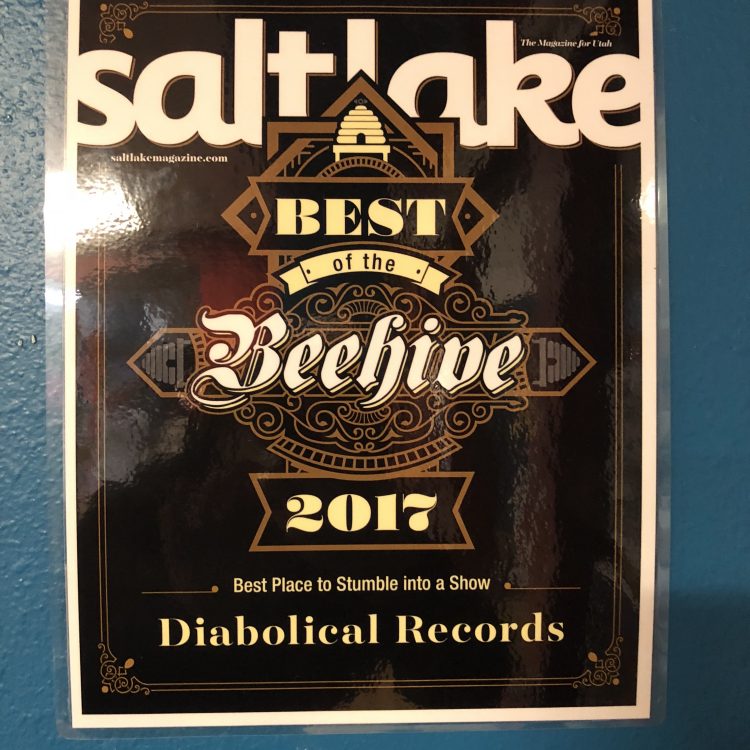 Awards